HK AIQIER WATCH CO., Ltd.
is
a professional watches and exporter with 20 years experience, brings not just quality, but also create new ideas to the market. We offer a wide assortment of watches that combine style with practically such as
stainless steel quartz watches
,
ceramic watches,
wood watches
,
plastic watches
,
gift watches
,
jewelry watches
etc. Distinctive and marketable watches are offered at very competitive prices. We specialize in high quality stainless steel watches, and we also have our own case factory and assembling factory that can control the quality and delivery time much better. Our designers team and R&D team develop a lot of new products for our customers each year. Attention to details and expertise, our factories assure our customers of high-quality products. So our watches finally sell very well on foreign markets such as Europe, America, Middle East, Asia, Russia, etc. As a specialist in complicated licensed projects for famous brand names, you can be confident with the way we handle your OEM projects & ODM projects.
Departments of AIQIER WATCHES CO., LTD.
The company's administration has professional management team, advanced management ideas, which can communication with the other departments timely, and issue the correct instruction, teamwork and communication skills are very proficient. Management mechanism is scientific and reasonable, so as to assure high management efficiency.
The marketing department consists of two professional teams. The professional R&D team and the professional sales team, the R&D team have professional designers, they have a unique design concept, with professional design level. Time to market-oriented, and constantly adjust the product design style and models to meet market demand. Sales team gathered a group of professional knowledge of full-time sales staff, they have a good understanding of communication skills, able to timely and accurately convey the requirements of the guests.
Production department is including case factory and assembly plant, case factory mainly produces stainless steel case, the factory has 80 workers, 10 CNC machines, production capacity per month up to 30000-50000. Assembly plant located in Dongguan, adjacent to the Shenzhen Luowu Railway Station and strategic location, assembly plant area of about 500 square feet, with a professional assembly of 20 workers, which can produce 50,000 pcs monthly. Production in full accordance with the production workshop "6 S" (SEIRI, SETION, SEISOU, SEIKETSU, SHITSUKE, SAFETY) strict implementation of standards, with a professional production machinery to strictly control the quality of products to ensure that each of the products to the guests have a perfect process and precision of the density.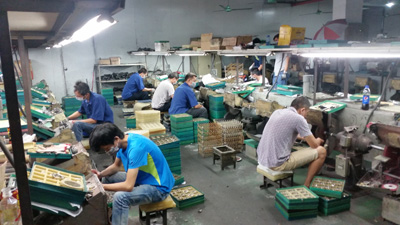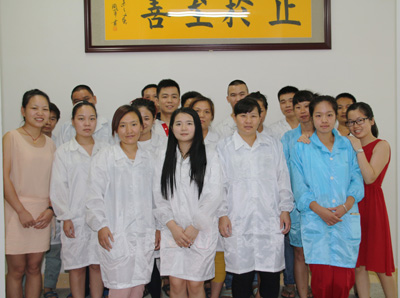 The company participates in the HK Watch & Clock fair every year.
So as to expand the company's business areas continuously, broaden horizons, during the exhibition and peer exchange of technology to achieve common development, but also continue to learn from the experience and constantly update the design concept. At the show also from all over the world with foreign friends to communicate, establish a good business relations, enhance product image. Companies focus on quality and innovative design, but also always to the international market-oriented, in the ongoing development of the pursuit of better, more excellent quality.
The company is also preparing for the 2018 watch & clock fair in Basel, Switzerland, looking forward to show our own unique watch style on the international stage.